UCO Trading is committed to matters beyond a more sustainable environment. For this reason, during 2019 we want to broaden our contribution to society participating in the following project:
UCO Trading participated together with Fundación Aladina in the decoration and adaptation of the pediatric and neonatology areas of the "Hospital Universitario Central of Asturias" through
a significant donation.
"Playground" is the name of the proposal chosen for this project through which Fundación Aladina and its partners will contribute to the region of Asturias. The new decoration will be installed in the Pediatrics area of the hospital, including waiting rooms and the infant intensive care unit. Furthermore the garden area will be improved, together with doors that will be adapted to create a number of additional boxes.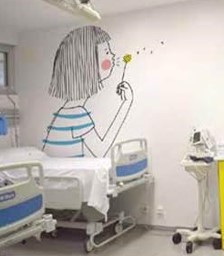 With its participation, UCO Trading shows commitment with the society, improving the quality of life of the generations to come.
We look forward to making this a more pleasant place for those who need it most. ¡Stay strong, little giants!